The National Graniteware Society:
The National Graniteware Society, founded in 1986, is an organization for collectors and true lovers of graniteware (also commonly known as Agate or Enamelware). The organization encourages learning about and understanding graniteware. It promotes friendship with other collectors of graniteware, and it gives to all members an equal opportunity to participate in new discoveries and general information concerning graniteware.
State chapters of the Society have been organized in several states including California, Maryland, New Jersey, Missouri, Kansas, Illinois, Iowa, Pennsylvania, Michigan, Minnesota, North Carolina, Ohio, Kentucky, New York, and Wisconsin. These chapters meet throughout the year and a newsletter is published twice a year. For more information, click on the link below.
http://graniteware.org/
The Beginning:
Think about enamel kitchen utensils today, and you probably imagine something coated all over in enamel. That certainly wasn't the case in the early years. To begin with, cooking pots were lined inside with enamel, but they looked like any other cast iron on the outside. People wanted a way of coating iron to stop metallic tastes or rust getting into food: something acid-resistant and easy to clean without laborious scouring, something more durable than the tin linings used inside copper.

The story of enamel cookware begins in the 1760s in Germany. The idea of finding a safe, convenient coating first took hold there: in scientific writing and in actual iron works. Fifty years later vitreous enamel linings, also called porcelain, for kitchen pans were becoming familiar in several European countries. Enamelling was no longer limited to decorative arts and crafts.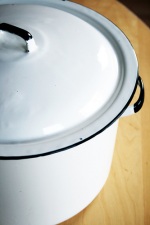 Were enamel-lined cooking pots really as clean and safe as they seemed? Some people praised them as far better than anything known before. Others spoke of poisonous ingredients leaching into the food. Finding out what cooks or housekeepers thought in the early days is not so easy.

Over the next few decades enamel-coated metal came into use for domestic pots, pans, basins, as well as for street signs, medical equipment and more. And yet enamelware was still a long way from the attractive and useful mass-produced utensils of the late 1800s and early 1900s.


Enamel in the USA: flourishing after a late start

Enamelled cookware came to the US after Western Europe. Around 1850 Americans began to own enamel-lined culinary utensils, but they were very plain, nothing like the colourful mottled surfaces that were yet to come. The Stuart & Peterson foundry in Philadelphia was making enamel-lined cast iron pots in the 1860s.


The interior of the hollow ware, as prepared by the steam lathe, is covered with a white paste, and put into the oven to be dried. After drying, it is transferred to an enamelling oven, where a white heat, sufficient to melt glass, is applied, which fuses this coating, making it soft as liquid glass. While in this state it is swiftly taken from the oven, rapidly covered with a white powder, and immediately returned back to the oven, where it is again subjected to a white heat, aud finally taken out to be gradually cooled in the open air. The enamel is, in fact, a regular coating of porcelain upon the metal, and with ordinary care is imperishable. On the contrary, the enamelled iron ware made in England (which has been nearly driven out of American consumption by Stuart & Peterson's manufacture) finally runs into an infinitesimal number of minute cracks, which chip off and render the vessel quite useless.


A history of American manufactures from 1608 to 1860, Bishop, Freedley, and Young, 1868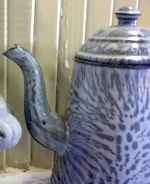 Mottled, marbled, or plain?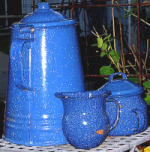 The first two big US companies making enamel homewares were founded by migrants from Europe in the 1860s. One company had French heritage, the other German. Lalance and Grosjean started as a business importing sheet metal and metal homeware before setting up their Manufacturing Company in New York, with a metal stamping factory in Woodhaven. Their mottled enamel was agateware, typically blue.

Frederick and William Niedringhaus built up the St. Louis Stamping Co. in Missouri, then moved graniteware production to Granite City, Illinois. They later evolved into NESCO, whose grey enamel was sometimes said to flow from "pure melted granite" . They got the first US patent for a mottled enamel finish, just a few months before a competing patent by L & G. Both companies went on to patent numerous improvements: from better spouts to novel surface decoration.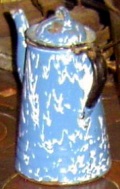 Vollrath managed to establish itself a little later, and there were other companies too. Carl Vollrath had to assert the uniqueness of his enamelling method to get a patent for his kind of "enameled iron-ware of the kind known as speckled or pepperedware":


The ware is distinguished from what is known as mottled ware, such as granite or agate ware, in the fact that the contrasting specks are produced by the incorporation in the enamel coating of an agent which presents the contrasting color, whereas in the case of the mottled ware the specks or spots are not only generally of a larger and somewhat less defined character than those found in the speckledware, but are caused by the absorption into the glaze of oxide of iron formed upon the surface of the metal during the process of enameling.
From Vollrath's 1893 patent
Note: The above information was taken from the following website. Click on it for more information about these common but wonderfully useful and decorative utensils.
http://www.oldandinteresting.com/enamelware-history.aspx
******************
Some samples of graniteware I featured in my booth at the July 2013 Scott Antiques Show.

On the left, a large spatter ware enamel wash basin. On the table, three sets of mugs w/saucer and a solid blue skimmer. The little ocre-paint stool holds a pitcher. All items are vintage 1940s-1950s.
Various sizes of spatter ware enamel pie tins. To the right, a large wash basin. A large enamel bowl is beneath the pale-blue shutter. All items are vintage 1940s-1950s.